A virtual classroom for
students and teachers, and
a virtual meeting space for the rest
Virtual is the new real-GVirtual classroom is here to ensure you remain connected,safely
Start your free trial
Explore GVC Features


Integrate with your Existing Conferencing Tool
We have grown in our expertise at utilizing the open source of BigBlueButton's source code, and thus we can easily customize, modify and integrate your products and services on to your own BigBlueButton server.
Improve Students Experience
GVC helps your virtual class room experience to be more Simplified, Personalized. Gives 24*7 access to your course content with improved support and keeps you better informed about events happening in your Institution.
We got you Interested, did we not?
If we have not grabbed your attention already, we would like to know. Enter your details below or call us @ 480-248-3858 and we are sure, GVirtual Classroom will pique your interest to connect with us and stay connected with everyone afterwards.
GVC and Zoom are a perfect match
GVC tools seamlessly integrate with zoom, so you get the best of video and virtual classroom management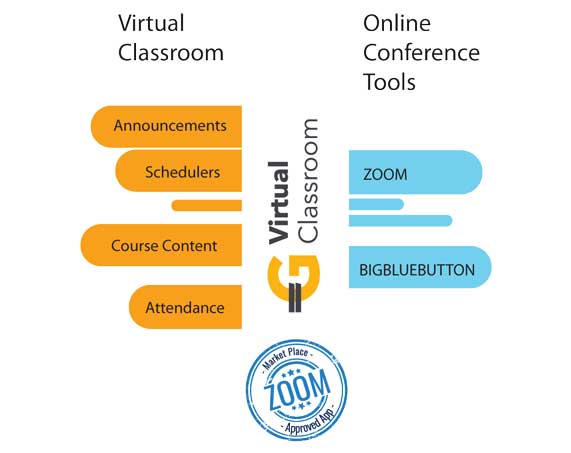 integrate zoom
We agree that Zoom has become the most used video conferencing tool now, and you must have already invested into it for your classroom needs. But, GVirtual classroom can blend in with Zoom so you can avail our most important timetable feature and not miss a class.
Integrate Big Blue Button
GVirtual Classroom can also be integrated with any BigBlueButton enabled platform as well. Make your learning platform even better by integrating it with GVirtual classroom and reap the benefits of seamless virtual classroom experience for all your stakeholders.
Selected School Template Name